How to create conversational forms with chatbots
What is a conversational form?
Instead of using a Pre-chat form that is provided to the user before even starting a real conversation with either a chatbot or an operator, there's another option. You can design your own conversational form thanks to a Form Builder. Our Form builder lets you choose the type of questions you'd like your customers to answer. It can be regarding customers' name, email address, company, phone or what size of shoes they're looking to buy or what is their preferred shipment or payment method. The combinations are endless.
How does a conversational form work?
You are the one drafting the content as well as the order of the questions you'll present one after another to your customers. As if they were live-chatting with a human operator. The big difference is that you don't need to hire human employees in this scenario, as chatbots can deal with such basic stuff pretty well on their own. On the other hand, your human agents will have the opportunity to focus on more complex matters. And you'll save your labour costs, while being 24/7 available to your customers.
But let's go straight to the point. Here are a couple of interesting conversational form use cases.
For example you can start by asking your customer's name. Once answered, a new question will follow and this time your chatbot will be able to refer to your customer by name, as below. Pretty cool, right?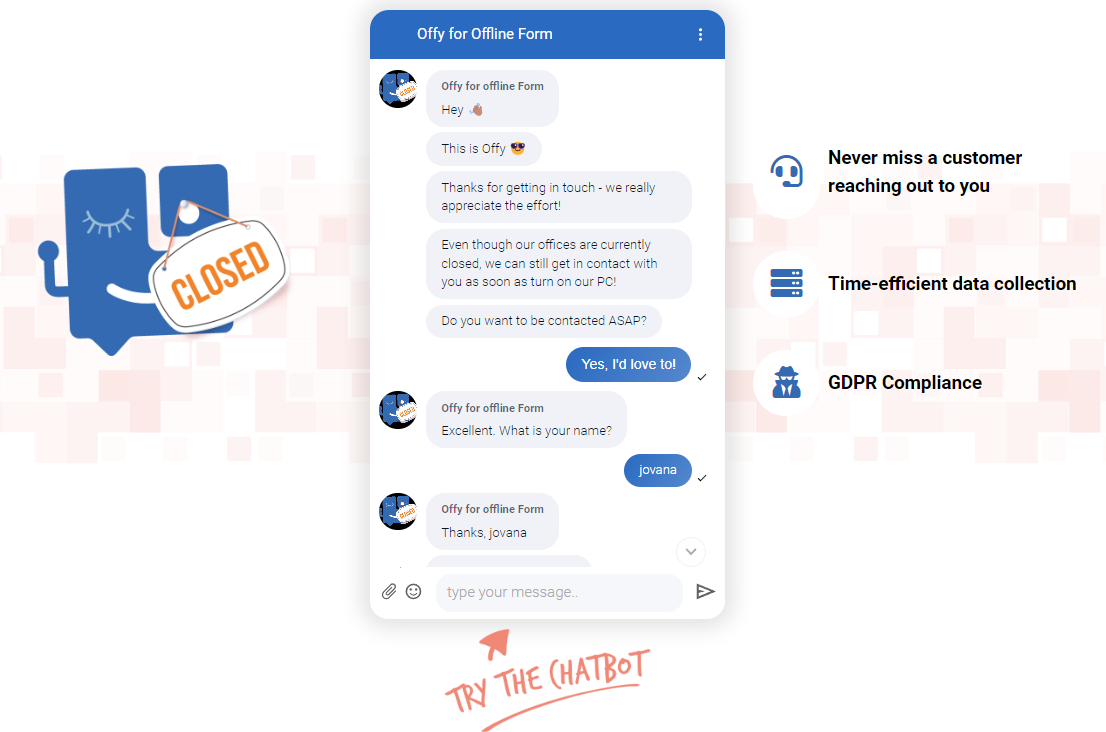 You will also be able to continue with any info you'd like to collect, such as the email or phone number. The whole conversation will unravel in a natural flow. Your customers will even forget they're not talking to a human operator. Importantly, you can also reassure your visitors that you'll store their personal info in compliance with the GDPR legislation.
Examples of what you can orchestrate with the Form Builders are like the universe: always expanding.
You can forget about all those back-and-forth emails to book appointments. Design a conversational form that will ask your visitors their contact info as well as their preferred dates and times to book an appointment. All you'll have to do at that point is get beack to them with a confirmation email.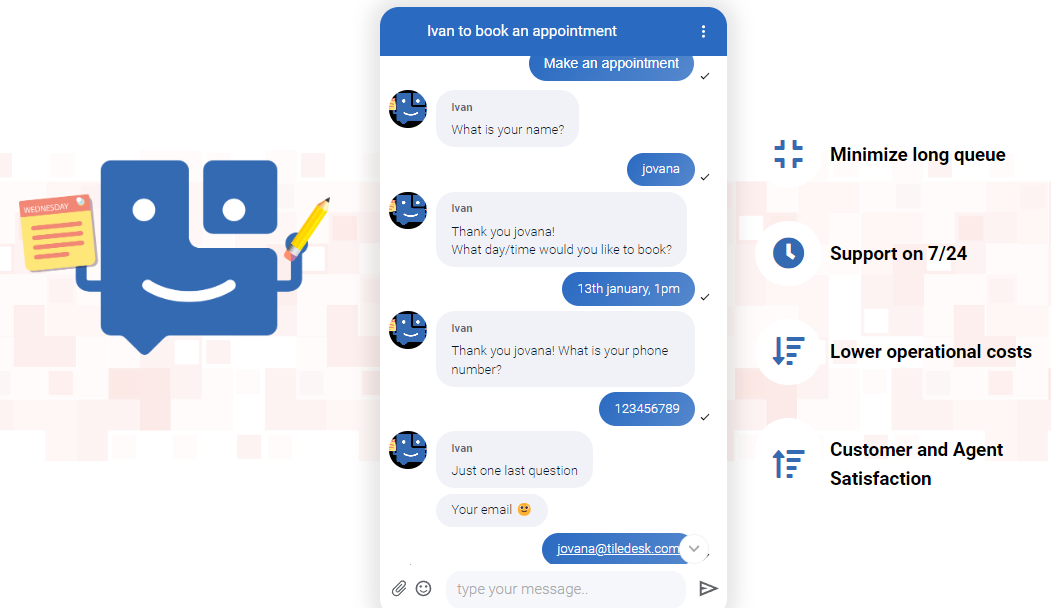 How to set up a Form with Tiledesk
Once you've signed up into your Tiledesk account, got to the Bots section to either create a new or edit and existing one. Choose an intent to add the form to.
You've got three options for a Form Builder:
Base: it asks for a full name and email only
Advanced: it asks for full name, email, phone and company address
Custom: tailor it as much as you please!
Go on! Make one yourself, have fun.
Any feedback on our Discord channel is always very much appreciated.